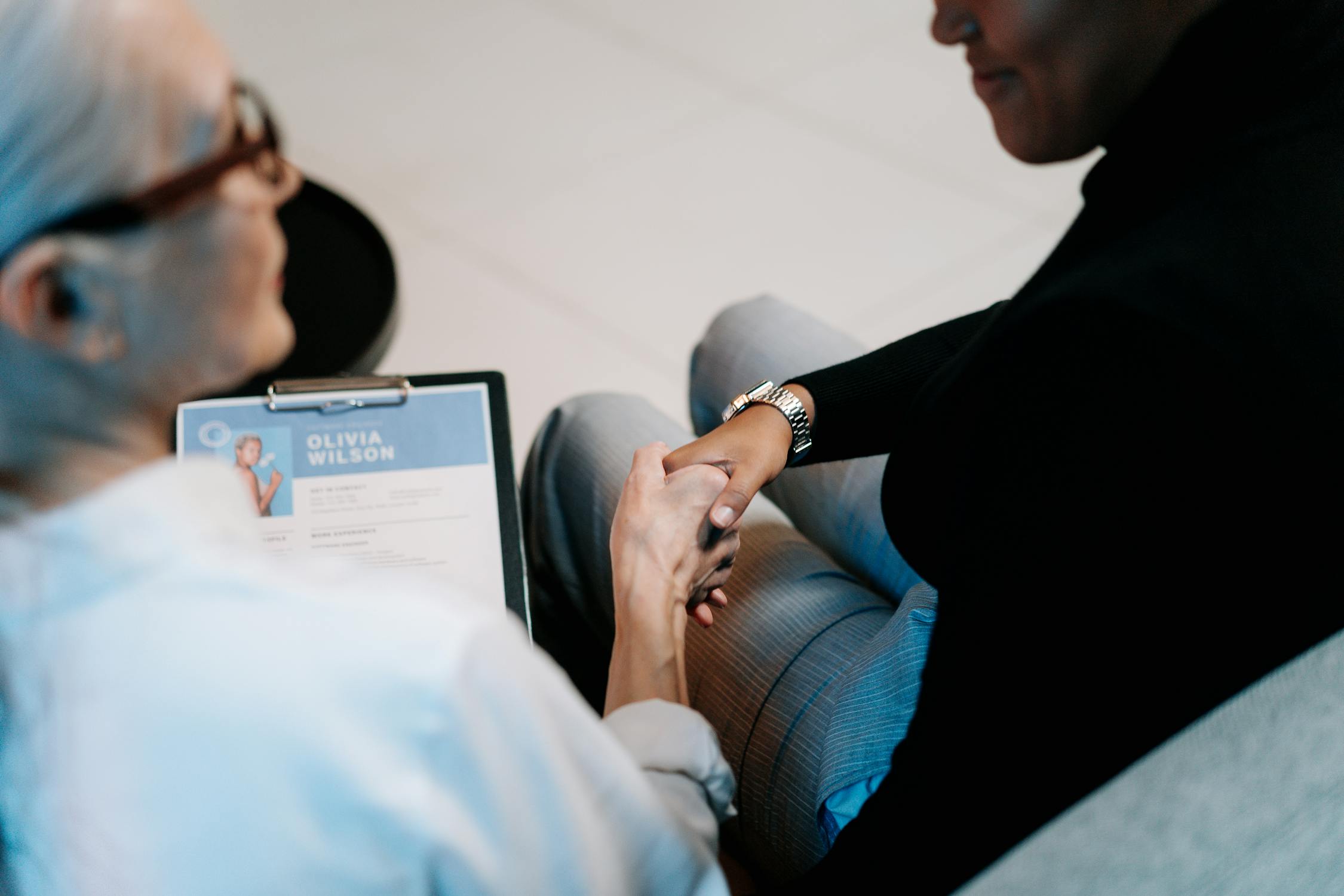 What are the best tips for Creating a 5-Star Video Resume
In today's highly competitive job market, creating the right video resume to accompany your traditional CV can make you stand out from the crowd. The wrong one, though, can make you a laughing stock.
Getting it right can be pretty tough. If you're considering going down the video resume route, we've got some advice for you from pros in the know, as well as real-life examples of great attempts from clued-in job hunters.
Register Here and Submit Your CV Today!
Take a look at our five must-read tips for creating a video resume and please let us know which examples you like (as well as any tips you'd like to share) in the comments below.
1. Make Sure It's Appropriate
Don't just create a video resume because you can, create one because it's relevant to the job you want to do.
If you're applying for a role in the online, media, social or creative professions, then it's more likely a decent video resume will have the desired effect, i.e., getting you invited for an interview.
Don't send a video resume to a more traditional type of company that won't "get it." You might do your chances more harm than good.
Graeme Anthony, from the example above, is a public relations executive. His cleverly thought out online content adds an extra wow factor to his already outstanding experience.
2. Don't Just Read Out Your Resume
The whole point of a video presentation is to offer a potential employer greater insight into you than a traditional resume can, so just reading aloud the contents of your CV is a waste of everyone's time.
Use the video to help the employer get a sense of not just what you have achieved, but what you are capable of achieving in the future.
"Tell them why you would be the right person to hire and what you can do for them," says Mario Gedicke, account manager at Mayomann.com, a video employment platform.
You can, however, highlight particularly relevant info from your resume. "Focus on your experience and skill set (and possible education/training) especially relevant to the position," advises Tyler Redford, CEO of resumebook.tv, an online resume management system.
And if it's appropriate and relevant to the job (as in the example above), then don't be afraid to talk about your passions.
3. Keep it Short
"Keep your video resume short," says Gedicke, who advises that a one-minute mark is ideal. Redford agrees that a video resume should be "short and sweet." He suggests staying within two minutes.
"Keep in mind that recruiters would likely want to use the video resume as an initial filter for applicants," Redford says. "However, recruiters do not typically want to use the video resume in lieu of a real, in-person interview."
Think of your video resume as your own personal teaser trailer. In the example above, the clip is less than one minute and 20 seconds in length, while the extra time is made up of a bloopers reel accompanied with credits, a clever way to show off your personality (and that you don't take yourself too seriously).
4. Don't Be Afraid to Be Creative
If you're opting for a video resume, then go the whole hog and make it spectacular. Be creative, whether that's with the concept of your pitch, use of humor, clever production values or brilliant editing.
However, stay classy. "Be creative, but professional. Do not deviate too much from the demeanor you would have in the workplace," says Redford. Gedicke suggests this should extend to your wardrobe too: "Dress professionally, just as if you are going to an in-person interview."
In the video above, James Corne creates a spoof AA-style confession, but maintains a certain veneer and dresses like he was headed to the office. This demonstrates creativity and humor whilst showing him to be a professional person.
Get more information and tips to get Hired by clicking here
5. Make Sure It Passes the Share Test
As with all online life, don't put content out there that you wouldn't be prepared to see go viral. It's unlikely your video resume will become an overnight Internet sensation, but imagining that scenario is a good test to make sure you could cope if it did.
Imagine your friends and family watching the clip. If the thought of that embarrasses you, then don't submit it.
The job market has changed considerably over the past couple of decades. If you ask one of your grandparents (or anyone over 70) how they got their first job, they'll probably reply with a variation of: 'I saw a sign in the window (or the local newspaper) and I walked in (or called up) and offered my services.'
Nowadays, the competition is tough and the process has changed. Technology has revolutionised every industry, and recruitment is no different.
If you've been asked to make a video resume (video CV, if you're in the UK), or if you want to make one to get an edge on the competition, then this article is for you. We're going to look at video resumes in detail. What are they? Why should you make one? And how?
Why create a video resume?
As we've touched upon above, a video resume can help you stand out in a competitive job market. In a world where attention spans are shrinking, video is the perfect way to get your message across succinctly and effectively. With studies finding that visuals are processed 60,000x faster than text, a video resume will get your message across straight away and could pique the interest of a recruiter who has been filtering through paper resumes all day.
In addition to that, a video resume is likely to leave a lasting impression. According to a Wyzowl infographic about the power of visual communication, people remember 10% of what they hear, 20% of what they read, and 80% of what they see and do. So, by watching your resume instead of reading it, recruiters are more likely to remember you when the time comes to hire a candidate.
If you're in a creative industry, particularly one that revolves around design and motion graphics, then there's even more reason for you to create a video resume. By showing potential employers a video that you've made, you're not only presenting them with your resume but also a piece of work that they can use as an example of your talent.
How to make a video resume: 6 top tips
If you've never made a video resume before (or even a video before!) then it can be a little bit daunting, and you may not know where to start. Here are 6 top tips to help you along the way.
1. Write a script
First things first: Do not wing it. To ensure your video includes everything that you need to cover, write a script out first. This will give you time to perfect what you want to say and phrase everything in the best way.
If you're going to be on camera then it's also best to memorise the script. You don't want to be reading from it while filming as this could come across as unprofessional and detract from how you want to portray yourself to potential employers.
Get the industry based best advice and guidance to get Jobs.
2. Make it relevant
Just like a paper resume, your video resume should be specific to the role you are applying for. A generic video is unlikely to impress potential employers, but personalisation will show them how much the role means to you and will make for a more memorable application!
3. Keep it short
Recruiters are busy people. They have a lot of resumes to get through and they want to be able to do it as quick as possible. If you send in a feature-length biopic about your life so far, it's safe to say that they aren't going to watch it in its entirety.
According to a study by Wistia, the ideal video length for maximum viewer engagement is 1-2 minutes, with 90 seconds being the sweet spot.
4. Get creative
Unfortunately, a video alone is not going to make you stand out. Tons of people are making video resumes now, so you need to make yours worth watching.
Think outside the box and get creative when it comes to filming your video. We're going to take a look at 3 awesome video resumes a little further down so be sure to watch those to gain some inspiration!
5. Make it professional
This might seem like stating the obvious, but your video should be of a professional quality. Thankfully, most smartphones these days are capable of filming in HD. It's fine to shoot it (or animate it) yourself, but make sure that the lighting, framing and editing are akin to that of a video made by a professional.
Also, make sure that your voice can be heard clearly–whether you're speaking directly to the camera or recording a voiceover.
6. Collect feedback
Before sending your video resume out to employers, ask your family and friends to critique it. It's always better to get feedback from others because they may spot a mistake that you missed, or they might even suggest a fantastic idea that didn't occur to you.
3 awesome video resumes
Before creating your own video resume, it could help to gather some inspiration by looking at some awesome examples.
Denny Kremblas
This is a filmmaker's resume so, as you'd expect, it's beautiful and professionally-shot. Aside from that, it gives an insight into the candidate's past to let potential employers know more about him and his journey.
The video ends strong with the candidate's contact details and also links to his other videos–so potential employers can view more of his work before getting in touch.
Maria Rodriguez
This animated video would really stand out in an employer's inbox. It's bright, colourful and fun, and it covers all points succinctly. The candidate covers her education, past experience, special skills, and also some of her personal interests.
Pay close attention to the script when watching it. A great script, like this one, can really intrigue potential employers and make them want to find out more.
Mark Leruste
Here are the best tips and tricks on Job searching and career opportunities to get professional growth
You may think that making a comedic resume video is a little bit risky, and perhaps it is. But, after trawling through applicant after applicant, a recruiter might really appreciate some light humour to break up his or her day. Plus, it's one way to get them to remember you!
This candidate does a great job of mixing humour with the facts that every employer wants to know.
A video resume is a short video created by a candidate for employment and uploaded to the internet (or emailed to a hiring manager) for prospective employers to review. In the video, the candidate shares detailed information about their skills and experience.
Typically, this video is used to supplement, not replace, a paper resume. As with a print resume, it's possible for the video resume to be either general or targeted toward a particular position or company. It can be created by a professional for you, or you can create your own. Some job search and networking sites provide a means for users to incorporate video resumes into their profiles.
How a Video Resume Can Help
Depending on your industry, a video resume could be a helpful add-on to your job application. It's important to keep in mind that a video resume isn't going to get you a job. However, it can assist you in marketing yourself to prospective employers—if it's done right.1
Should You Create a Video Resume?
Creating a video resume is an optional task for job seekers. It's quite rare for companies to require or request a video resume from candidates. A Robert Half survey reports that most companies (78%) prefer traditional resumes, either a Word Document or PDF. Only 3% were interested in video resumes or infographics.2
For some job seekers, particularly ones in visual or creative fields, a video resume can highlight valuable skills. For instance, a video resume is useful for showing any type of performance-based work, whether it involves acting on stage, teaching a class, or presenting quarterly numbers.
Also, a video resume can be an excellent way to show off your personality; for people in client-facing roles, whose work involves charming prospective buyers, a video resume may be beneficial.
However, if your role is not very visual, then a video resume might not help further your candidacy. You should also be mindful that it's easy to miscalculate in a video resume—that is, there's a high risk of the script, filming style, or location being inappropriate.
If you make your video resume yourself and have little filming experience, your video might come across as unprofessional.
Keep in mind that, as with anything on the internet, once your video file is out there, you cannot control how it's shared.
An unprofessional or inappropriate video resume can hinder your chances of getting an interview. In a worst-case scenario, a poorly conceived and executed video resume can knock you out of contention and embarrass you.
Some hiring managers will not even view video resumes since they fear claims of discrimination in the hiring process. So, while a video resume can be a great way to get noticed, consider your options carefully before getting started to ensure that a video resume is the right fit for you, and a good use of your time.3
Tips for Creating a Video Resume
If you're considering creating a video resume as part of your job search, keep these tips in mind:
Be professional: Dress as you would for an interview and maintain a professional demeanor. Avoid slang and, of course, cursing. Be cautious when it comes to jokes. What's funny to you may not make others laugh.
Find a good background: Pay attention to the background of shots: make sure it looks tidy and that there are no noises in the background. You'll also want to make sure the lighting is good. A shadow across half of your face can be distracting.
Prepare a script: Don't ad-lib your video. You want to seem natural and off the cuff, but should have a sense of what you want to say and how you want to phrase it. Do not read directly from a script or from your resume, as that leads to a dull video. Think of the video as a pitch for why a particular company should hire you. As such, your main objective should be to express what benefits you'll provide the company, as well as your goals, skills, and accomplishments.
Click Here For the Original Source
Know your audience: As you plan your script and filming location, consider who will watch the video and calibrate accordingly. For instance, a video prepared for a position at a bank might differ from a video created for a start-up.
Show, don't tell: Use visuals to illustrate what you're saying in the video script, ones that showcase your talents and skills. For instance, if you're applying for a job where presentations are a significant part of the role, you can film B-roll of yourself assembling a PowerPoint. If any of your presentations were recorded, use that footage in your video resume.
Keep it brief: Videos should be between 30 and 90 seconds. Anything longer than that is unlikely to be watched.
Share with friends and family: Getting feedback from others is an important step. Ask a few people to watch your video, and make edits and changes based on their comments.
Always keep in mind that once your video is on the internet, you no longer have control over who sees it or how it's shared. Take feedback from friends and family seriously. If they think it's a misfire, do not send the video to potential employers.
Video Resume Don'ts
Don't mix your personal life with your professional one. If you have information on your Facebook or Twitter page that you'd prefer employers don't see, don't link your video resume to them.
Don't expect your video resume to replace your traditional resume. Not all employers are interested in a video resume, and others are worried about discrimination issues, such as hiring candidates because of how they look and sound rather than their qualifications. However, a well-done video can bolster your candidacy for employment.